Video quality test software for QA, technical support, and system integration teams dealing with video compression quality assurance, encoder settings adjustment or selection of best codec.
STREAM SUMMARY INFO
Profile, compatibility flags, level, tier, chroma format, resolution, frame rate, duration, frame types, average frame sizes; range of quantizer values.
PICTURE DETAILS
CU, PU, TU size; max\min QP; pixel distribution into encoded type: intra, inter, and skip; motion vectors range.
STATISTICS VISUAL REPRESENTATION
Easy navigation throughout the stream using Bar Chart stream presentation.
GOOD DEAL
MPEG-2, AVC, HEVC, video formats; SS, TS, PS, AVI, MKV/WebM, MP4/MOV, FLV, MXF, HEIC containers
See the difference between product versions


Check the detailed versions' comparison, their key features and possibilities.
Key Features
Display and saving of stream summary and picture information
Stream navigation and display in I, P, B, IP and Key Frames modes
Hex viewer and Stream viewer – file content (header level) presentation in text mode.
Display of Macroblock (MPEG-1/2, AVC) / Coding Tree Unit (HEVC) data: location, slice index, tile index, sizes, coded, prediction, transform unit info
Display of frame size, type, bit allocation, quantizers; decoded, predicted, and unfiltered frame data (YUV or single component)
Display of motion vectors, partitions, slice boundaries
Must-have product for professionals
QA Engineers

Fast and accurate check for errors in video codecs

Technical support engineers

Easy spot of problems in the video bitstream

Broadcasters

Detailed comparison and easy choice of the best en-
coder
Software and Hardware specifications
Supported video formats
MPEG 1/2 Video stream
AVC/H.264 Video stream
HEVC/H.265 Video stream
Supported media containers
MPEG-1 System Stream
MPEG-2 Program Stream
MPEG-2 Transport Stream
MP4/MOV file containers
MKV/WebM file containers
MXF file container
AVI file container
FLV file container
HEIC file container
MPEG-DASH MPD
System Requirements
Hardware requirements :

• 4 GB RAM for video resolution below HD

• 8 GB RAM for HD video

• 16 GB RAM for UHD video (or higher)

Software requirements:

• Windows® 7/8/10/11 (64-bit)

• Mac OS 10.13 High Sierra - Mac OS 13 Ventura

• Ubuntu 16.04, 18.04, 20.04, 22.04 x64
By installing, copying, or otherwise using the SOFTWARE PRODUCT or any UPDATES, you agree to be bound by the terms of the "Elecard" End-User License Agreement (''EULA''). This EULA is a legal agreement between you (either an individual or a single entity) and Elecard for the "Elecard" software product(s) accompanying this EULA, which include(s) computer software and may include "online" or electronic documentation, associated media, and printed materials (''SOFTWARE PRODUCT'').
Related products
Analysis of the stream structure and down to macroblock structure for inspection of codec parameters. Video quality test software.
Elecard StreamEye Studio is a set of powerful software tools for video quality analysis designed for professional use in video compression, processing, communication and streaming media industries
Video Tutorials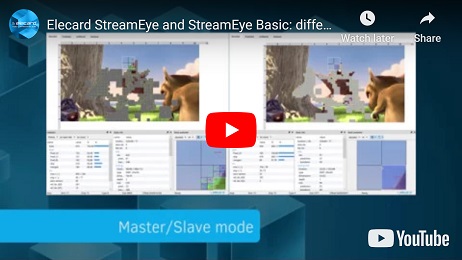 See the difference between StreamEye and StreamEye Basic tools
Testimonial
All testimonials
News & Events
Elecard offers you to try a new version of Elecard StreamEye Studio powered by MPEG-DASH MPD support which makes it easy to navigate the process of video segments' analysis
We are happy to announce that Elecard StreamEye is now available in two options: StreamEye and StreamEye Basic.
Our Customers
We are proud to be bringing our multimedia technologies knowledge and expertise to more than 9K companies in the world.