8К broadcasting at CSTB 2019 with Elecard CodecWorks
Tomsk, February the 8th 2019, Elecard provided CodecWorks platform for the first time in Russia 8K video broadcasting which took place at CSTB 2019.
The fast-changing industry of TV broadcasting is progressing at a feverish pace and those technologies which seemed fantastic yesterday have now become ingrained in our everyday life. State-of-art TV broadcasting formats make it possible to watch video in a breath-taking quality without leaving your home. Currently, the gold standard recognized at TV broadcasting industry is an UltraHD format or 4К. Next-generation 8К format (the total image dimensions of 7680×4320) is considered to be its closest successor, having twice as many horizontal and twice as many vertical pixels as 4K. The difference between 4K and 8K is not so obvious for users with regular TV sets, however 8K striking advantages become prominent on the large TV screens used on the street or at shopping centers.
8K broadcasting is a technically complicated process, which involves expensive equipment supporting such resolution both on the side of operators and end-users. However, IT experts share the opinion that 8K holds enormous promise for the television industry and it will gain same level of popularity as 4K in the nearest future.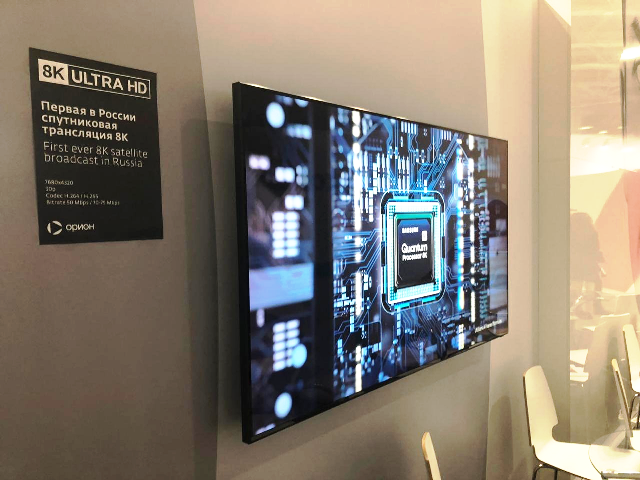 In order to evaluate the challenges and future possibilities of 8K broadcasting the Orion company organized 8K broadcasting at one of the most influential events in TV broadcasting industry in Europe – CSTB 2019 (Moscow). Elecard also made its contribution and provided a module for video compression and its further transmission via satellite – Elecard CodecWorks.
"8K video broadcasting technology cannot be widely adopted by customers yet because a typical TV set does not have the required technical capabilities to receive an ultra high definition signal. Such equipment is still expensive. The price of the TV set used at CSTB is around 10 000 USD – it is the first production model of a consumer TV made by Samsung with resolution 7680х4320 pixels", -comments Nikolay Milovanov, Elecard CEO.
One of the upcoming events – the Olympic Games 2020 in Tokyo might pave a way for this technology to make its next breakthrough. Japan announced the intention to organize the broadcasting of the Olympic competitions in 8K resolution. It does not seem surprising as in December 2018 a Japanese company NHK officially launched a first 8K channel broadcasting in the world.
"The fact is that an extremely limited number of operators can do 8K video broadcasting. And we are very proud to be among technology vendors to enable Telcos move to the next broadcast quality level", – added Nikolay Milovanov.
About Elecard
Elecard is a provider of video compression technologies (Linear, OTT, File based) as well as professional Analysis software and Embedded QoS/QoE probe technologies used to enable todays video ecosystem. Elecard supports: MPEG-2, AVC/H.264, HEVC/H.265, VPX, MPEG-Dash, HLS, AV1. Elecard Analysis tools, Encoder platforms and Codec SDK's, enable system architects, designers and QA to shorten development cycles and improve time to market. Elecard is based in the United States, Canada, Russia and Vietnam. For more information, please visit www.elecard.com.
Elecard Office contact:
Tel. +1 (415) 952-6332
sales@elecard.com