Monitoring of MPEG TS and tracking of SCTE-35 markers
Monitoring of MPEG TS and tracking of SCTE-35 markers
Customer: New Service Company (NSC)
NSC develops and implements technologies, services, and solutions for the media advertising market. It is the exclusive partner of National Advertising Alliance, the largest seller of TV and digital advertising on the Russian media market. Since 2020, the company has been providing technical services to Russian TV channels preparing OTT versions and marking them with SCTE-35 ad markers. In 2019 NSC implemented Elecard Boro server and probe solution and in 2022 chose to increase the number of monitored streams.
CUSTOMER'S TASK
Distributed monitoring of MPEG TS and tracking of SCTE-35 markers in OTT versions of television channels. Centralized access to statistics and reports.
ELECARD SOLUTION
Implementation of Elecard Boro probes for distributed monitoring of main and backup OTT streams.
RESULT
Automated monitoring of QoS and QoE parameters: Elecard Boro solution automates the process of monitoring making potential problems much easier to identify and solve.

Unified interface for metrics: Staff members have access to a centralized interface that allows them to easily track various metrics related to ad markers and content quality.

Instant notifications: Elecard Boro promptly notifies of occurred errors, allowing engineers to quickly react and fix problems before they have an effect on transmission.

Improved service quality: Thanks to efficient monitoring and prompt errors notifications the overall service quality has improved, which is crucial for the customer, advertisers, and users.

Centralized access to statistics and reports: Elecard Boro provides centralized access to statistics and reports to all authorized parties , making it easier to analyze occurred events.

Low network and system load: Elecard Boro does not cause significant network and system load, which is important for ensuring infrastructure stability.

Single database of occurred events: The ability to store all system events in a single database makes it easy to implement your own view of emergency notifications, which in turn improves overall monitoring of necessary parameters and response to problems.

High scalability: Elecard Boro solution has no limitation on the number of monitored streams, allowing to upscale the monitoring system at any time to suit your needs.
SOLUTION IMPLEMENTATION
Deployment of Elecard Boro Server and Elecard Boro probes for distributed monitoring at transport stream generation and traffic exchange points. Monitoring data is stored in a centralized database.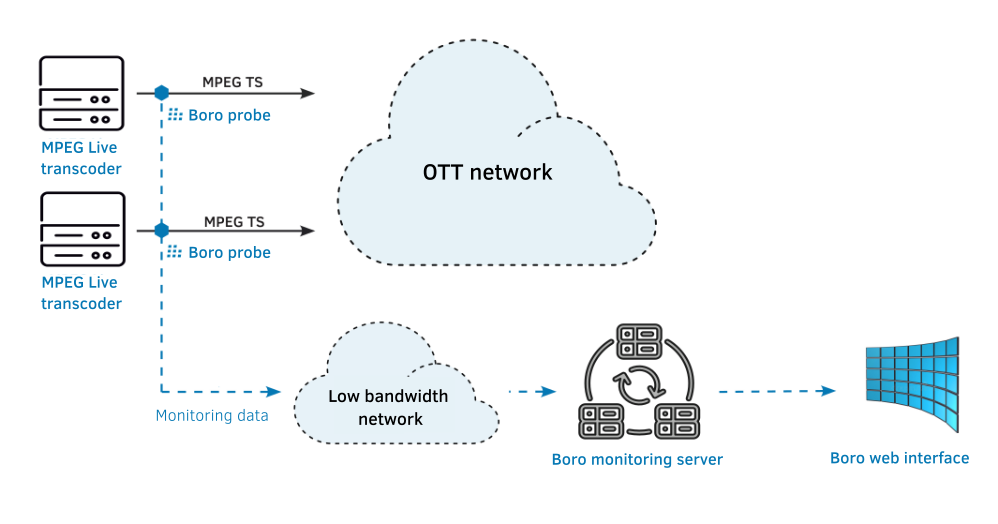 Feedback
«We have been using Elecard Boro since 2019. All this time it has been consistently providing the required functionality without imposing significant loads on network and system resources. That is why in 2022 we decided to expand our monitoring system. I also want to note the ability to store all system events in a single database, which makes it easy to implement your own view of emergency notifications.»

Sergey Bulanov, Head of Video Technology Department at NSC