Distributed monitoring and quality control system for 100 HLS streams
Distributed monitoring and quality control system for 100 HLS streams
Customer: MVTV Thailand
MVTV is one of the leading satellite and IPTV broadcasting companies in Thailand with over 22 million viewers. MVTV is a partner of major media conglomerates such as Warner Bros. Discovery and TVB. The company offers access to more than 40 channels in 5 languages. MVTV's broadcast geography covers 20 countries in Asia.
CUSTOMER'S TASK
Building a distributed monitoring and quality control system for 100 HLS streams.
ELECARD SOLUTION
Installation of Elecard Boro probes at the headend station and across content distribution network for monitoring of 100 HLS streams.
RESULT
Monitoring of QoS and QoE parameters: Elecard Boro automates the quality control process at all stages of content delivery.

Fast troubleshooting: Significant acceleration of troubleshooting through an automated monitoring system and early detection of potential issues.

Reduced maintenance costs: Increased cost-effectiveness thanks to automated fault detection. In case of any issues, Elecard Boro pinpoints the location of problems, reducing the costs of diagnostics, transportation, and labor of technical engineers.

Quick implementation: Building a distributed monitoring system with Elecard Boro service took less than 3 days.

Recording by Event: Elecard Boro probe can record events, which helps in diagnostics and improves troubleshooting.

Low network and hardware load: While in "Player mode", Elecard Boro probe analyzes only one variant of the HLS stream, reducing the network and hardware load. If monitoring of all stream variants is required, Elecard Boro offers the "All Renditions" mode.

High scalability: Elecard Boro has no limitations on the number of monitored streams, allowing upscaling the monitoring system at any time in case of additional tasks.
SOLUTION IMPLEMENTATION
Integration of Elecard Boro monitoring system into MVTV's workflows took less than 3 days. Elecard Boro probes are used to monitor 100 HLS streams at the headend and across content distribution networks. The data collected by Boro probes is sent to the Elecard server for MVTV's technical staff to observe. The monitoring system is used by 10 staff members on a daily basis.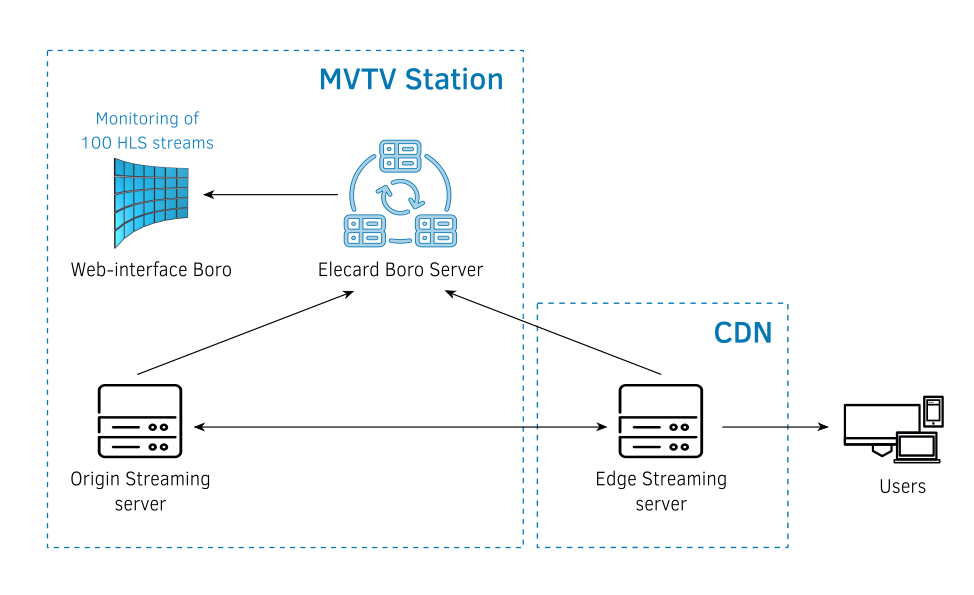 Feedback
"We have chosen Elecard Boro for its ease of use, affordable price, and the large number of monitored parameters. Elecard Boro is fast to implement within a few days, Boro can also record and analyze by event, so after we fix the issues we can learn from every case. Boro is fast to learn, it's easy to understand what happened to our stream, so we can identify the root cause of the problem. Until now we couldn't figure out how to monitor 100+ streams at the same time. "

Worawut Tavipvoradech, head of business development at MVTV